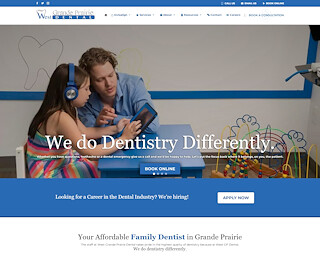 If you're looking into options to having your teeth straightened, consider the numerous benefits associated with Invisalign. West Grande Prairie Dental is a proud provider of the Invisalign system, also known as the virtually invisible way to improve your smile with no metal brackets or wires involved.
There are many advantages to choosing Invisalign over traditional braces; consider just a few of the benefits you'll experience with Invisalign:
Unlike permanent, metal brackets and wires, the Invisalign clear aligners can be removed every day for up to two hours. For patients, this is a considerable advantage over traditional braces. Removing the aligners means easier brushing and flossing, which leads to a better semi-annual check-up when it's time to see your hygienist.
Our teenage patients can particularly relate to the advantages of the Invisalign system being more discreet; ask your teen, and they'll most likely disclose to you that peer pressure at least plays some role in their decision to wear braces. The pressures of society on a young adult can be difficult to process through, especially considering the fact that braces must be worn for an extended length of time. Both teens and adults prefer Invisalign; in fact, it's quickly becoming the most popular way to straighten teeth without metal brackets and wires.
If you've been looking into Invisalign in Grande Prairie, you can learn more about its benefits by visiting our website, clicking the 'Services' link, and selecting 'Invisalign' from the menu. It's the first option in the drop-down selection section. You'll quickly discover that for comfort and convenience, no other type of braces can match Invisalign. Grande Prairie residents can call West Grande Prairie Dental to speak with a knowledgeable staff member from our dental clinic who will be happy to provide answers to your questions.
We highly recommend scheduling a consultation with our dental staff to take the next step in learning more about Invisalign. Following a thorough assessment of your teeth, we'll determine whether you're a good candidate for the Invisalign system, and let you know how long we estimate it will take to create a straighter, more beautiful smile.
If you like what you hear, we'll get you fit with the first transparent aligner that you'll wear for an estimated 2-4 weeks. Take the aligners out when you want to enjoy your favorite foods, when you want to perform daily dental hygiene, or even during an afternoon nap. Be sure to keep them in place for at least 22 hours each day for maximum benefit. Your teeth will start moving into place within the first few weeks- and you'll be on your way to showing off the smile of your dreams!
Invisalign Grande Prairie